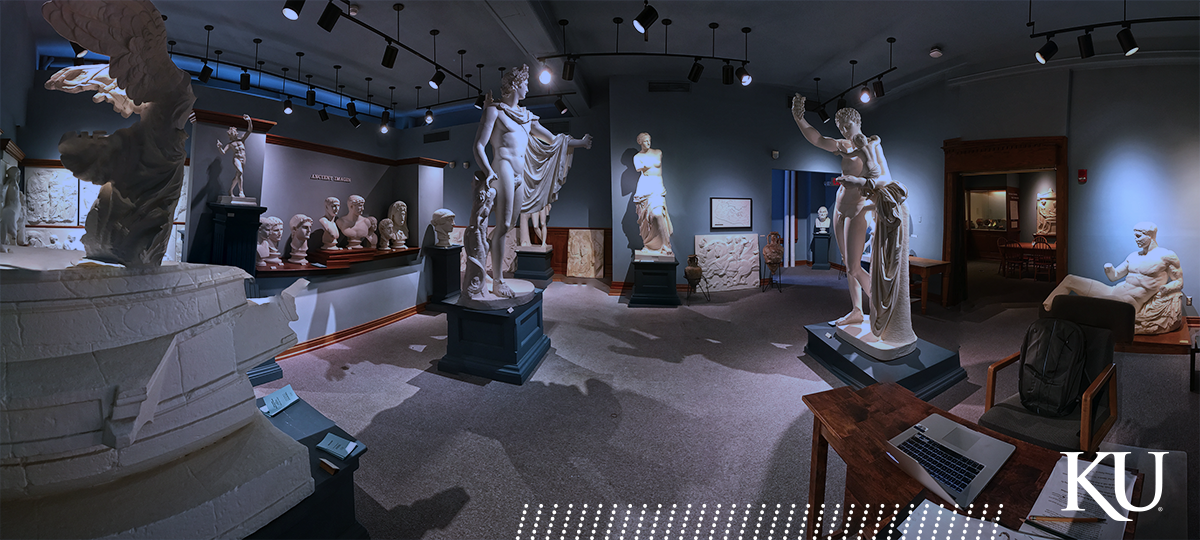 The Wilcox Classical Museum remains temporarily closed. We look forward to seeing you in-person or virtually soon. We are currently working on a re-opening plan for the fall. Send us specific questions about scheduling of class visits at the Contact Us page.
Welcome to the new website for the Wilcox Classical Museum
The Wilcox Classical Museum was dedicated in 1888 as the "Classical Museum" of the University of Kansas. The Museum's founder, Professor Alexander Wilcox, taught at KU from 1865-1915. In creating the museum, Professor Wilcox had the goal in mind of exposing students and Kansans alike to the ancient Greek and Roman arts. The first of its kind in Kansas and in the region, the Classical Museum predated even the Nelson-Atkins Museum of Art in Kansas City, which was not dedicated until 1933.
Today, the Wilcox Classical Museum is operated by KU's Department of Classics, and displays plaster casts of famous Greek and Roman sculptures as well as a wide range of ancient objects and artifacts from the ancient Mediterranean region.
The Museum is located in Lippincott Hall 103, in the Mary Amelia Grant Gallery, named after a longtime curator and one of several significant benefactors of the collection during the twentieth century.
The Department of Classics with current curator Phil Stinson, Associate Professor of Classics, hope to soon renovate the Museum with the goal of substantially growing and widening its accessibility and audience. The museum's new website, designed and created by KU students of Classics, is part of this project.
We are working on a re-opening plan for the Fall Semester 2020 that prioritizes the needs of KU instructors and students while maintaining social distancing and other safe practices in the era of COVID-19. 
Sincerely, 
Phil Stinson
Curator-in-charge, Associate Professor of Classics, Dept. of Classics